so the internet in my room is down once again, so im here in the comp lab at 12:30 in the morning making a long need entry. Me and kristen just read thru Duel, me on violin and her on clarinet and it was amazing! it was so much fun, i play bond music alone in my room all the time but i feel like such a loser, now its fun to see kristen making funny faces at me, so great. now, kristen landa and james went to the ratt for food. i just got back from work and im still in my work clothes. work was fun today, i always liked it when theres a nice amount of people, we had like 15 tonight, and i can hand out the free samples (dentenye sp? ice) to people, start little conversations and such and just be my usual self. erroll told me that im the most cheeriest member of the staff. i couldnt tell if i should take this as a positive thing or not lol. whatever. okay lets see if i can recap some past things and catch up.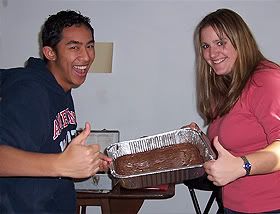 so in my comp practicum, it always seems like there so much tension in the class. people are always on their toes ready to pounce at any moment. mind you, putting all composition majors in a room for an hour to critique each other, theres bound to be fireballs. so i decided the class needs some perking up. so weds afternoon, me and nicole went to lauryns house and we baked brownies! "nicole: hey les, go preheat the oven to 350 degrees" "me: okay.... hey... um.... how do u do this?" "nicole: lester! thats not the oven, thats the dishwasher! you're prewashing, not preheating" so you can tell that we got off to a great start. overall, the brownie turned out okay and im glad the class got to enjoy them, have people settle down a bit. me and kristen have made some frequent trips to kohls. its really sad, but we love going there, we just always expect great things! kristen bought a nice jacket and picked up a shirt. so we're walking down the aisle, and literally at the same time, we both see this really really ugly sequin blouse and scream "ruth!!!" it was so great, but this blouse was totally something our favorite theory teacher would wear.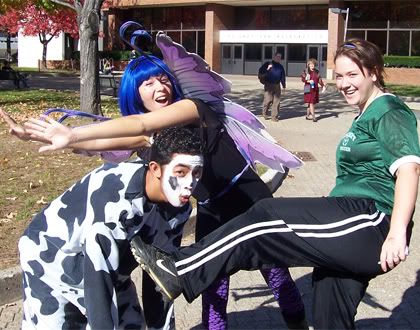 oh! halloween was last monday! so since im cheap, i whipped out the old cow costume for the fabulous monday. the weather was really nice actually, that crisp fall air, which was awesome. since i lost the headpiece to the cow, i picked up some facepaint and lauren was nice enough to get it on me (thanks a lot landa. turns out, not a lot of people in the dept got changed for halloween. then again, theres so many strange people here, its like halloween everyday. so after masterclass, i went back to my room and washed by face, then me and lesley spent quite a fun evening together. the first stop was to a nice coffee shop in little falls. the lady there was really nice, she just seemed like someone who talks to the coffee pots during slow hours. next we called up rt 4 cinplex for movie times, then nabil got us free tickets to prime. it was a good movie, ur run of the mill chick flick, so ya know i liked it. on the way out, we headed to coconuts, and lesley picked up 3 dvds! ive never bought that much in one sitting, so i was pretty amazed at that. a nice dinner at panera ended the night, i havent been there in while so that was great. i havent really sat and talked to lesley all semester so im glad we had some catch up.

like i said, work as been peachy keen. mike and i started our first cardboard display, this one was for xmen 3 baby! we had no idea how big this thing was really gonna be lol so the first 20 mins, was taking the whole thing outta the box and figuring out the very first step. yea so after like an hour, all we got done was the base, and thats all thats really been done since. the remains sit inside the base and the whole project has been sitting in the ushers room. who knows when we will get that done lol. oh in choir, we had this 'dictation specialist' come in to help us with the spirituals we're doing. hahah all i really saw was a big black women, and she was great! ive been singing this style of music so long, its so funny. i really had fun that day, and kristen says i make funny faces when i sing wade in the water.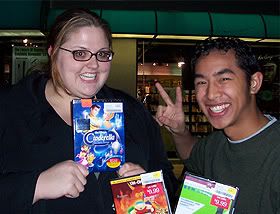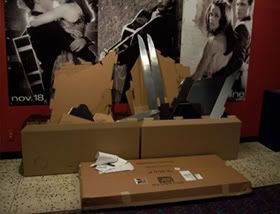 its so weird how college can be. there are feelings and emotions that have come up this past year or so that i never ever have come across. this past week has been tough for me. theres just some things i just cant take. i dont know if i myself cant take this emotions or my mind and body just isnt ready to handle it. but i just really needed to get away. after working hard on thursday then finding out some things, i was glad to pack some stuff up and head home for a weekend (to a working tv, so i was able to continue ff7 which i have restarted ^-^). so friday was mikeDs birthday. oh man, hes 20 years old already. i know this is gonna sound tacky, but we're growing up so fast. i remember the lot of us sitting in st petes parking lot, bullshitting like we always did, and here we are growning up bullshitting on facebooks lol.but anyway, jf, mikeO and i all came home to spend with dantoni on his birthday. i dont wanna steal mikeDs balloon, but this is something i felt i really needed, and it couldnt have come at a better time. sometimes, as much as i love college and all the people ive met and grown to love here, i still feel like my little river edge life was perfect for me, and that i never really wanted a change. sometimes, i feel things now that i never thought of before and that confuses me. i guess, back in highschool, i had that bubble life that i was so used to and i think change is bad. but here i am loving college, dont get me wrong, i really love it here, and i have friends i can't imagine not having in this point of my life. i just wish that the emotions and pain (and work) could have been pushed to the side. So for mike's birthday, first me, JF and mikeO got dinner at gsp, quite nice being able to see those two, since i see mikeD so much at work. but when the four of us came back together, it was sooooooo awesome. i felt like it was summer again (it kinda was when we went back to my backyard for cards lol). i really didnt want things to change again. so we went to van saun, walking from JFs house, headed to the playground, had an awesome time. "buffaskunk, i choose you!" "buffaskunk digivolve to.... skunkalo!" yea we're losers, but we dont care.(if uve read this much, IM me sometime, and ill bring u a cookie lol)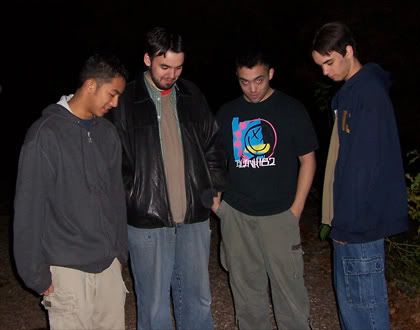 so erroll calls us the fantastic four. kinda funny we're all employed at the same place, isnt it? walking in the park, the four of us again was great. how many times have i said that? yea okay im a dork so what, i love my friends. anyway.... so we headed to bowler city, played a few games, i sucked as usual. but whatever. i really missed bowling, i havent played in a long time. we departed for the night, then me and the mikes had lunch in little japan the next day. i had sushi and ramen and it was awesome. lol. mikeD had to go to work as andy our manager was ill, so we had to cut the trip short, i headed into work then after him. this was a great weekend, i cant wait for thanksgiving now! argh this semester is almost over... ill have 2 huge papers, finals, juries, pieces and all this other crap, done by christmas. hopefully. well i hope u all are doing well, keep in touch guys okay? and take care. oh and edgar, lemme know how natalie imbrulia is, or however u spell her name lol